Vice-Rector for Social and Economic Affairs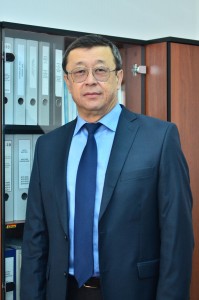 Ospanov Sultanbek Saghimbayevich
Candidate of Pedagogical Science, Professor, corresponding member of the Kazakh Academy of Education.
Before 1995 Ospanov S.S. had been the Dean of the faculty, Prorector of the Akmolinsky University, Rector of the private independent Institute «АККУ» (1995-1998г.); Rector of the Eurasian Humanities Institute (1999-2001 ).
From February 2002 he was appointed for the post of Prorector of the Institute on social and economic issues.
Ospanov S.S. organizes the work on social issues at the Institute, deals with material provision of the educational process and scientific researches. He is in charge of the financial-economic activities of the Institute and capital construction, timely commissioning of the objects and the basic funds.
Ospanov S.S. pays special attention to the educational aspect of the educational process, the formation of the students' feeling of patriotism, active life position in his scientific pedagogical activity.
Ospanov S.S. has more than 40 scientific publications and methodical recommendations.
Ospanov S.S. was awarded the Badges of the MES of RK: "The Honorable Worker of the Education of RK", «Ы.Алтынсарин», the Medals: «10 жыл Астана», «Қазақстан Республикасының Тәуелсіздігіне 20 жыл».